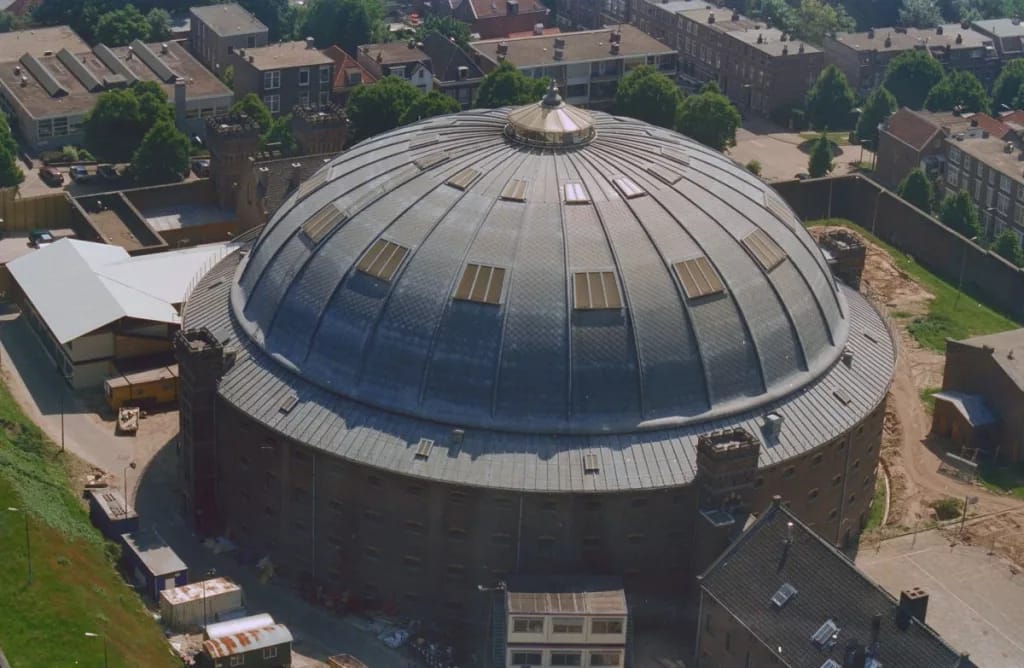 Amazon set up shop in 2022 in the de Koepel, a former jail in Haarlem, Netherlands.
The prison, built in the style of a panopticon, was operational from 1901 to 2016.
De Koepel has been transformed by Haarlem into a community area with room for tech firms.
The peculiar feature of Amazon Web Services' new office space, which has acquired popularity on social media this week, is that it is housed inside a former prison. The office was opened in Haarlem, Netherlands in 2022.
"The Haarlem Dome Prison," also known as Prison de Koepel, was established in 1901 and closed in 2016. De Koepel was used as a temporary refuge after it closed for Syrian migrants applying for asylum.
The third floor of de Koepel is occupied by Amazon; here, individual workstations are available as well as converted jail cells used for offices. A tour of the area was shared on TikTok by an Amazon employee on Thursday, and on Friday, it was reposted on X, the original name of Twitter.
In the film, a few former jail cells are displayed, with the AWS logo prominently displayed above the cell numbers. According to the TikTok user, the cells double as meeting spaces because they are furnished with chairs and office equipment.
"Discuss vendor lock-in," she writes in the overlay text.
The irony of Amazon having an office in a former prison was frequently pointed out in the comments and re-posts. Numerous reports have detailed how Amazon delivery drivers and warehouse employees are underpaid, overworked, and frequently forced to urinate into bottles in order to reach quotas.
The jail is a multi-story structure in the shape of a dome that houses prison cells facing a central area. It looks a lot like a panopticon, which is a type of prison designed to keep inmates unaware of their surroundings. (In contrast to a real panopticon, De Koepel's watchtower doesn't seem to have been in the middle of the dome; it was farther to the side.)
The usage of a panopticon-style building is especially noteworthy because Amazon has come under fire for continuously collecting data on other devices, such as Alexa, and for enabling monitoring through its Ring home security cameras. The Federal Trade Commission accused Amazon of violating consumer privacy earlier this year, and the corporation was forced to pay $30 million in two different lawsuits.
A number of unreported instances of Ring employees spying on clients were disclosed in court filings from one of those lawsuits.
The new office spaces in de Koepel are managed by Cupola XS, which also houses Rabobank, ROM InWest, and Blockchain Netherlands, among other banking and investment firms. The former prison also has a cafe, areas for student study spaces, and spaces for guided tours.