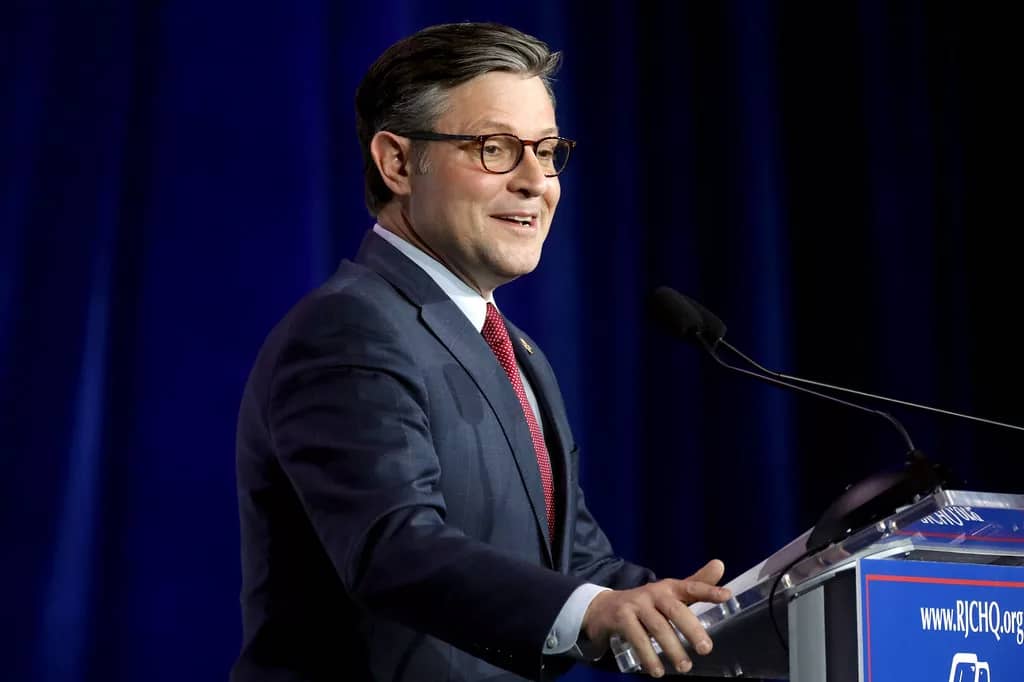 While House Republicans are still supportive of Speaker Mike Johnson, Republican Representative Thomas Massie forewarned them that there is not much time left to stop a federal government shutdown.
The shutdown date is November 17, and Johnson has not yet disclosed his strategy to avert one. On October 25, three weeks after Representative Kevin McCarthy of California was removed from the speakership, Johnson of Louisiana was chosen speaker. McCarthy's resignation was prompted by far-right House Republicans who did not agree with his choice to vote with Democrats on a "continuing resolution" (CR) that prolonged government funding for an additional 45 days past the previous deadline of September 30.
Johnson made it clear at a press conference on Tuesday that he opposes a government shutdown, but he provided no information regarding preventative measures.
"How about this: I won't tell you when we're going to bring it to the floor, but it will happen on time. We're handling the procedure in a manner that I believe will make people proud, so trust us," Johnson remarked. "[We had] very deliberate, positive discussions about the many options that are on the table, and we'll be revealing what our plan is in short order."
Johnson was contacted by Newsweek by email on Thursday for a statement.
Kentucky's Massie said reporters on Thursday that Johnson must decide quickly and proposed a CR with a September 2024 expiration date.
"I believe that this is just the honeymoon phase. Given what's happening on the floor today, I'm not sure how long it lasts—maybe 30 days," Massie remarked. "The honeymoon might not last as long as we had anticipated."
The Republican congressman went on, "Every time the CR expires, the speaker is putting his head in the lion's mouth." "If I were advising the speaker, I would say do a one-year CR before the honeymoon period runs out—buy you enough runway to get you to September 30, 2024."
Rather of extending the 12 federal funding bills all at once with the same date, Johnson has proposed a "laddered CR," in which Congress would adopt staggered deadlines, prioritizing the funding of agencies with more expeditious deadlines.
Republicans on the far right have backed this strategy, while Democrats and several Republicans have criticized it for being unclear and unworkable.
The vice head of the Appropriations Committee, Senator Susan Collins, a Republican from Maine, stated that she favors assembling complete spending legislation into "minibuses," or groups of three bills at a time.
"I would prefer that we continue with the original plan, which was to have four minibuses," she stated.
The MAGA sector has chastised Johnson for backing Israel's fight against Hamas, a Palestinian militant organization, while domestic unrest persists. On November 2, the House approved a $14.3 billion relief package supported by Johnson.
In an October 30 post on X, formerly Twitter, Rumble personality Ryan Matta wrote, "MIKE JOHNSON PUTS ISRAEL 1ST KNOWING THERE ARE 4 MILLION ILLEGAL RIDING TRAIN CARAVANS THROUGH MEXICO."
"Politicians are incapable of putting America First!" Cynthia Holt, a Trump fan, commented on Johnson online.