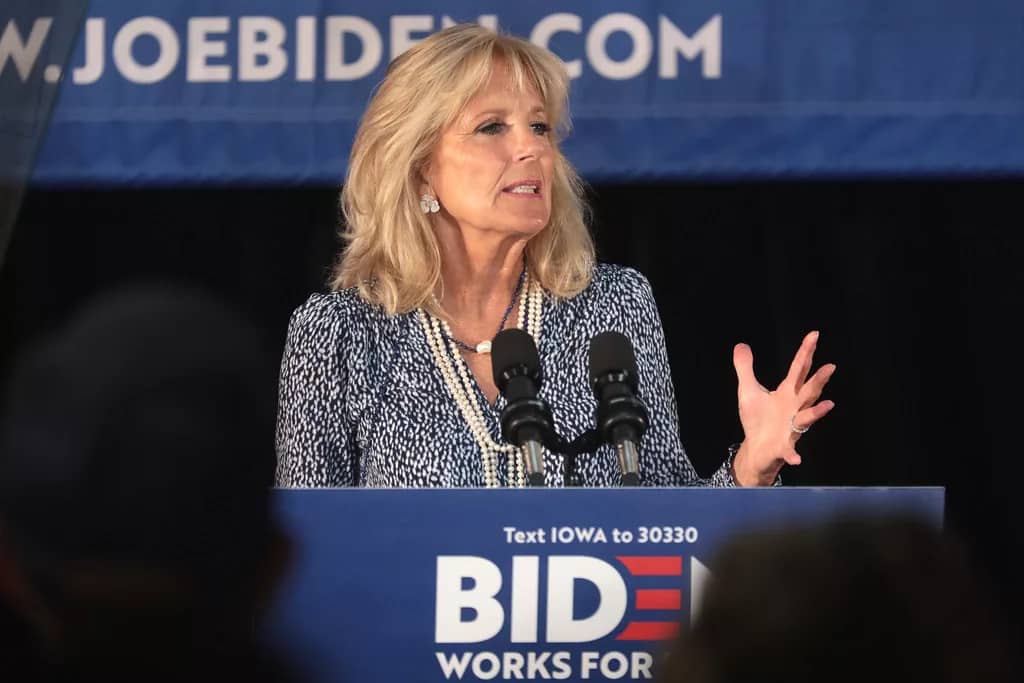 November 8 (UPI): First lady Jill Biden traveled to two towns on the East Coast on Wednesday to declare the opening of a government-funded program aimed at increasing the number of people in the country who work in technology. The program will offer career development opportunities and employment training.
In order to begin the process of filling new high-tech manufacturing positions created under President Joe Biden's legislative agenda, the first lady flew to Pittsburgh and Augusta, Georgia.
The White House stated that communities designated as "Workforce Hubs" will work to promote the growth of advanced jobs across the country by enlisting the help of the public and private sectors to develop technological work skills through education programs and apprenticeships, as well as by offering job support services to millions of potential employees.
The initiative, which was unveiled in May, has a strong emphasis on employing women, students, people of color, and other groups that have historically had low representation in rapidly developing technological industries.
The hubs in Augusta and Pittsburgh will collaborate on a variety of projects with nearby technical schools and community colleges with the goal of increasing the number of skilled workers in each area and the quantity of high-caliber employment that becomes accessible to them upon completion of their training.
According to the White House, since Biden assumed office, the government has helped to enable more than $37 billion in private investments in Georgia, which have resulted in the establishment of new high-tech manufacturing facilities and the creation of 27,000 new jobs.
Concurrently, the Labor Department provided $3.75 million to Pittsburgh to assist 300 apprentices in the fields of broadband infrastructure, transportation, and sustainable energy.
To support a wide range of new manufacturing employment in the techno-economy, numerous corporations in both states have committed to investing millions of dollars in technical job training, paid internships, dual enrollment programs, and scholarships.
The White House claimed that a number of training providers have committed to increasing skill development programs in areas such as advanced manufacturing, construction, nuclear power, clean energy, cybersecurity, and next-generation technology development in order to support the program.
Jill Biden and Mayor Ed Gainey of Pittsburgh announced the creation of over 1,000 new jobs in the fields of clean energy, high-speed internet, sophisticated manufacturing—including robotics and biomanufacturing—and infrastructure.
Pittsburgh has long been known as a site of transition, where iron ore becomes steel and steel becomes affluence. In prepared remarks, Jill Biden stated, "And today, you're still transforming—turning an old steel mill into a training center for the jobs of the future."
The White House claimed that, as part of the initiative, education and training institutions in Steel City will increase the number of apprentices and other earn-and-learn training options available to hundreds of people annually.
"Enterprises are expanding. Jobs are returning. There is a historic low in unemployment. Structures are rising," Mrs. Biden said. "Young folks are also headed for amazing careers. Allegheny County has a bright and exciting future ahead of it, one that every person in this room can be a part of.
The White House previously indicated that other hubs in Phoenix, Arizona; Columbus, Ohio; and Baltimore, Maryland would be announced in the upcoming weeks.
The administration also named the fifteen cities that will be included in its Good Jobs, Great Cities Academy. These cities include Birmingham, Alabama; Chattanooga, Tennessee; Duluth, Minnesota; Fort Lauderdale, Florida; Frederick, Maryland; Jamestown, New York; Kokomo, Indiana; Lansing, Michigan; Missoula, Montana; Monroe, North Carolina; Newark, New Jersey; San Antonio, Texas; Santa Fe, New Mexico; Saint Louis, Missouri; and Tempe, Arizona. The academy will also work to provide technical assistance and other workforce development initiatives in a broad range of cities.
A nationwide initiative to increase access to sophisticated manufacturing employment that doesn't require a four-year college degree is also being planned by the government.